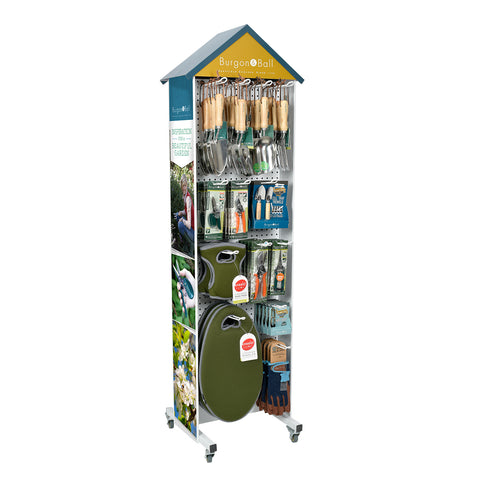 Description

Specification
[trade-description]
Showcase seasonal or bestselling lines all around the store, with this compact, go-anywhere stand.
Display any two high volume ranges in just 0.2sqm - simply select the two best-selling ranges which generate sales in your store.
Castor-mounted for easy moving around the store, to make the most of seasonal sales opportunities and to generate additional impulse sales.
Quick and easy to merchanise, with a choice of pre-prepared planograms.
Options available:
Option A: Outdoor Living
Option B: FloraBrite®
Option C: Love The Glove and Dig The Glove gardening gloves
Option D: Children's Tools
Option E: Lawn Care Tools
Option F: Essential Tools
To order, please email our sales office on sales@burgonandball.com or call 01202 684141.
[/trade-description][trade-specifications]
Stand footprint: 0.47m W x 0.42m D x 1.87m H
[/trade-specifications]