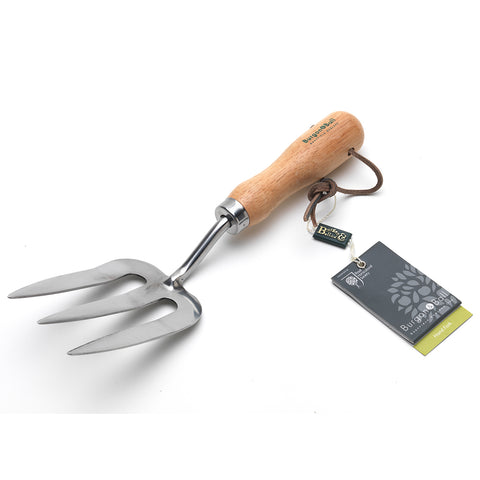 Description

Specification

Delivery
Our stainless steel garden hand fork is endorsed by the Royal Horticultural Society, perhaps the ultimate accolade in the gardening world.
The perfect partner to our trowel, this beautiful hand fork is a design classic. The pointed tines (prongs) are specially hardened and tempered to withstand tough cultivating,  while the tang (or neck) is precision forged to the perfect angle for ergonomic working, and uses a different composition of steel for optimal strength in this important area of the tool.
The stainless steel of the fork is highly resistant to rust and will look good for years to come, and a strong leather cord allows the fork to be hung up tidily when not in use.
Like all our RHS endorsed stainless steel tools, this hand fork comes with our lifetime guarantee. You should never need to buy another fork!
If you have heavy or clay soil, you may be interested in our RHS-endorsed round-tined hand fork. You may also be interested in our RHS-endorsed trowel.
Overall length 29cm, width 8cm.
Handle: 100% FSC certified hardwood
Head: stainless steel
Hanging cord: leather
Weight: 228g
We currently accept orders from mainland UK addresses only. Delivery is charged at £4.99 per order.

Once your order leaves us, we are dependent on couriers or Royal Mail to get your order to you. Please allow sufficient delivery time for your order.

PLEASE NOTE: If you order requesting delivery to addresses on UK islands, the Channel Islands, or in Northern Ireland, we may need to contact you to request a supplementary delivery payment, based on third-party courier fees. If this supplementary cost is not acceptable, we will cancel your order and refund your order payment. There is no additional charge for small items that can be sent by Royal Mail.